Saint Jean Cap Ferrat
One hundred and fifty villas, a few apartments at the entrance to the Cap or in the village, and internationally known…. The idea that rarity makes for an exclusive market is certainly borne out on the most highly-prized peninsula in France. Property in Saint Jean Cap Ferrat is spectacular.
Independent since 1904, the commune of Saint Jean Cap Ferrat has been the subject of many articles: its illustrious residents, its dizzy prices per sq metre 'the most expensive in France' according to some.
It's not easy, however, to be absolutely sure, for here discretion is the golden rule. Information one takes for granted may belong to the past, with the present diluted into a tale somewhat between reality and myth. A respect for privacy, as high as the hedges surrounding these sublime properties, is an essential requirement for those who live on Cap Ferrat.
One agent in the area describes the various types of villas 1.8 to 2.5 million€ will buy you a small house requiring refurbishment, without a view or just a glimpse of the sea. Such properties never stay long on the market and attract two types of clients: the first wanting to renovate and resell, the second knowing that this is his only chance to acquire a property on the Cap.
Houses of 200 to 250m² with a view and level grounds fetch from 3 to 5 million€. Here again, they are sadly lacking, with advantage budgets ranging from 4 to 7 million€. Beautiful villas of 300 to 400m² in grounds of 2000 to 2500m² with magnificent sea views can be found from 8 to 15 million€. Another agent estimates that there about 20 properties currently for sale. "For the past three years, agencies have observed that properties between 2 and 3 million€ are getting rarer. Lost of what's available is priced between 4.5 and 10 million €. And with grounds of more than 2500m², in an ideal location, one can expect prices from 10 to 30 million €.
If course, this price-range, already very wide, does not include the exception. Out of 500 villas, less than 6% come into the market per year. More affordable, an apartment without a view and requiring refurbishment costs an average 5000 per m². But on the Cap Ferrat, the urban zone is very small and middle-range residences built from the '50s to the '70s only offer smaller flats. In fact, it is hard to find anything over 75m². Under pressure of demand for larger surface areas, this phenomenon should be corrected in the years to come. An apartment in good condition facing the sea costs from 6000€ to 10 000€ per m².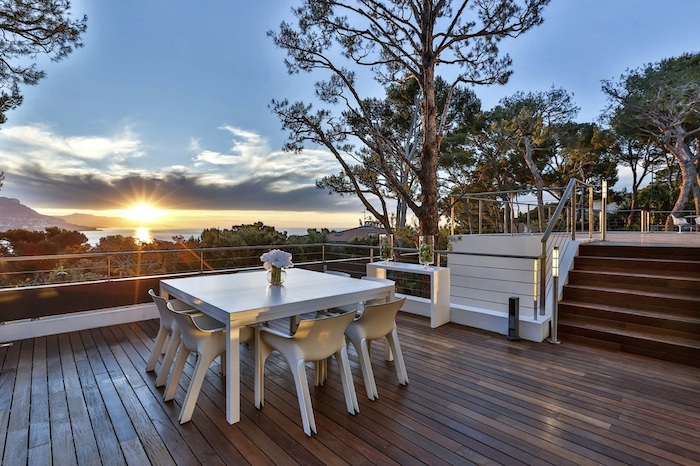 An agency that has been placed on the Cap Ferrat since 1946 also points out to a general rise in prices of over 50% during the past five years, with top notch properties and the best locations posing an even steeper rise. Over the last decade, Cap Ferrat has outstripped the Cap d'Antibes in terms of prices. The agent however advises the buyers to exercise caution; in the past months, there has been a slower demand for lower and mid-range properties and more demand for real estimates, which indicates the arrival of new products on the market in the near term and thus a less significant rise I prices that have been seen hitherto.
Clients are mostly foreigners looking for holiday homes. Cap Ferrat plays host to English, Irish, Americans and Russians, and still a few Italians: to a lesser extent Belgians', Germans and Swiss. One agent puts the recent rise in Irish buyers down to a tax change in their home country. "Fewer than they were two years ago, clients nevertheless have higher budgets".
"A sea view is priority and security, an area in which the authorities have made considerable efforts, is an undeniable advantage. In the village, still as authentic as ever, life is very enjoyable. And while grounds are smaller than those on the Cap d'Antibes, the scenic views of the Mediterranean, the view of the cliffs along the coast and luxuriant vegetation all complete in natural beauty. Cap Ferrat's geographical location, between the international Nice Cote d'Azur airport and the Principality of Monaco, also guarantees the presence of an elegant and wealthy international clientele".
From very early on, the glossy clientele has played its part in Cap Ferrat's fame – Nicolas II, Empresses Eugenie, Elisabeth of Austria and Marie of Romania, James Gordon Bennet and especially Leopold II of Belgium and Béatrice de Rothschild have all lived here.
Post the Second World War
The post-war era (1939-45) have also brought its lot of celebrities: Charlie Chaplin, David Niven, Elizabeth Taylor, and Gregory Peck… Presidents of France where great fans of the Cap: Vincent Auriol, René Coty, Charles de Gaulle, Giscard d"Estaing. Writers also liked to retire here: Somerset Maugham, Blaise Cendras, Armand Lanoux, Alain Decaux, as well as actors and artists: Jean Gabin, Jean-Paul Belmondo, Gilbert Bécaud, Charles Aznavour, Jacques Tati, Bourvil, Jean Marais and Jean Cocteau.
Some properties recall this Golden Ages: The villas Baîa dei Fiori, Les Cèdres and La Fiorentina, La Trianon and Lo Scoglietto. Esteemed architects added yet more prestige: Oscar Niemeyer drew the plans from a property on the Pointe Saint-Hospice, Norman Foster built La Voile and a pupil of Le Corbustier designed La Ligne Droite. Svetchine father and son also deployed their talent here.
Property in Saint Jean Cap Ferrat
Finally, we owe the protected setting and the discreet integration of buildings to the vigilance of Les Bâtiments de France and various environmental associations. Cap Ferrat is a partly classified site (building permits subject to the DDE and Les Bâtiments de France) and partly a village site.
"The occupancy rate for seasonal rentals of villas is 90% more during the two summer months, 50% in June and September" says one agent. "Expect to pay at least 30 000€ and an average 70 000€ per month in the high season". Fans of apartments pay 2000€ for a one bedroomed flat and 7,000€ for 90m². There are very few attractive flats in apartment blocks – but really exceptional accommodations in private properties.