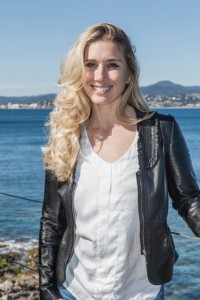 A polyglot with a passion for real estate and a background in international business, I set up Alexandra Lloyd Properties so that I could offer my expertise to people looking to rent or buy high-quality villas in the breathtaking surroundings of the South of France.
In this idyllic area, with its glut of spectacular houses around every corner, the task of picking the right one might soon start to feel like an impossible feat. This is why knowledge of the local market is crucial: I personally visit every property I list and am extremely conscientious, so you can rest assured that only those that meet my consistently high standards will be selected.
Originally from the UK, soon after graduating I chose the make the Côte d'Azur my home – over many years I've travelled extensively around the area, explored its countless hidden jewels and gained a solid knowledge of French property legislation. During this time, I have established and nurtured a network of people and companies I can rely on to provide a wide range of services, at competitive prices, which you might require during your stay.
As well as the tangible benefits of matching you to the property and services that perfectly meet your requirements, you'll enjoy the peace of mind that comes with knowing that all our communications will be treated with the maximum discretion. Privacy is something I take very seriously when getting to know all those who entrust me with their search.
Indeed, I am proud to have built an excellent reputation by always behaving with impeccable integrity, as well as being relentlessly helpful and supportive. Straight-talking and extremely organized, I tend to skip the typical long-winded sales pitches so that together we can concentrate on turning those dreamy locations you've been admiring from afar into a reality.
ALP LUXURY VILLAS & CHALETS
"Le Majestic" - 4, Boulevard de Cimiez - 06000 NICE
Tel: +33 613 933 798 - Email : info@alpvc.com
Siren 808 698 906 - R.C.S. NICE
Gérante : Mademoiselle Alexandra CONNOLLY - Titulaire de la carte professionnelle numéro 12541 pour les transactions sur immeubles et fonds de commerce et la gestion immobilière, délivrée par la Préfecture des Alpes-Maritimes.
Garantie financière SNPI numéro 19808 - QBE pour les transactions sur immeubles et fonds de commerce pour un montant de 110 000 € et pour la gestion immobilière 110 000 €