Having bought Villa Léopolda, Villefranche in 1895, it wasn't long afterwards King Leopold II turned his attention to the Saint Jean Cap Ferrat peninsula. 
His first purchase was a small villa close to Passable beach (known today as Villa Ibéria), with a private port. This allowed him to dock his yacht, Clémentine, close by and reach the villa by canoe!
From this small property, the King's purchases grew more extravagant. Using his considerable influence, he negotiated ruthlessly snapping up properties at low prices. Setting up umbrella companies he expanded his empire with enough distance between himself and his business interests.
To finance his purchases the king shamelessly exploited various natural resources across the world. One such resource was rubber. His dealings with indigenous people were known to be harsh. Through his dealings he was able to buy more and more properties along the French coast.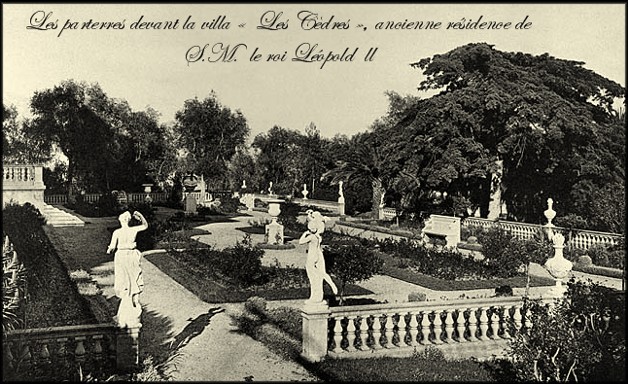 The Villa
In fact, the Belgian king soon found himself owner of the entire West part of Cap Ferrat with over 50 hectares of land. One of his more notable properties was Villa Pollonnais, bought in 1904 but built in the 19th century. Designed by Niçois architect Sébastien-Marcel Biasini, Désiré Pollonnais, Mayor of Villefranche, lived there until his death in 1900.
This grand villa entertained guests of note such as Lord Salisbury, other members of royalty and many artists from the Nice opera.
But Leopold's property empire had not gone unnoticed. Locals worried their region was falling into the hands of a lone dictator. Indeed, the king cut off swathes of land from the public with the use of barbed wire. 
Work Begins
Following the purchase of Villa Pollonnais, architect Aaron Messiah began remodeling the exterior. He set to work, adding on a multi-level extension to the west wing of the original building. This grand addition featured Corinthian columns peristyle, elevated on a semi- circular terrace. 
Messiah transformed the campanile (an Italian bell tower) and facade. But perhaps the most obvious change was in name. Gone was Villa Pollonnais, making way for Les Cèdres.
Inside, major changes were taking place. Partitions knocked down and fine wood installed on the walls. Outside the gardens too were undergoing an extraordinary transformation. 
Landscapers Harold Peto and Jules Vacherot (responsible for the gardens of the Eiffel Tower and the Champs Elysées), installed a two kilometer track. Hidden away, this allowed the kind to horse ride unseen.
They also created an impressive 50-metre-long basin and artificial pond. And imported tonnes of soil to plant olive, eucalyptus, palms, and cedars. Strong scented trees lined the pathway in a dazzling display of color. 
An orangery and winter garden welcomed visitors. Also installed was a white pergola latticework with worked wood, elevated onto a royal crown and water garden with successive waterfalls. Alongside this, a replica statue of La Victoire de Samothrace decorated the grounds. 
Finally, a tennis court, horse stalls and pavilions to house the staff gave the property a château aspect. Many of the world's politicians came to visit the property, notably the French Republic president Armand Fallières in 1909. Other notables included Georges Clemenceau who accompanied the prefect of the Alpes-Maritimes, André de Joly.
Despite all the work poured into Les Cèdres, Leopold continued his property hunt. In 1905, working with Messiah and another architect Doumet, he has another property in his sights. This time it's a beach front villa at Passable. The Music Pavilion in Versailles was said to have inspired the villa, named Le Casin (or small box). 
While smaller than his previous endeavors, this villa is to house the king's mistress Blanche Delacroix. Known as the Baronne de Vaughan, she is to live at the villa with their son, Julien Delacroix.
While small, the villa was nevertheless impressive. Designed around a vast octagonal living room, it boasted a magnificent painted ceiling and marble floors throughout.
Léopold built a pathway linking Le Casin to his primary residence along with a large staircase to access Passable beach. More homes were to follow but his death in 1909 meant the end of this king's French empire.
End of the Empire
During the First World War, Les Cèdres transforms into a military hospital. A place for injured soldiers to recover and convalesce. Le Casin given over to officers for the same purpose.
Both properties are sold at the end of the War. Le Casin bought by Armand Bernard, a plenipotentiary minister from Stockholm and prefect of the Alpes Maritmes. He renamed it "La Radiana".
Sir Ernest Cassel buys Les Cèdres in 1920. Tragically, this English financier and member of the private council of the British Commonwealth, dies a few months later. In 1924 the villa passed into the hands of Alexandre Marnier-Lapostolle. It was this owner who, in 1880, created the famous orange liqueur, Grand Marnier. A botany enthusiast and knowledgeable collector, Alexandre transformed the property into a sumptuous garden containing a wide variety of exotic plants. His son Julien added to his collection importing shipments from the Brazilian forest.
During the 1970s, the property was damaged by fire and parts refurbished. The belvedere tower removed and replaced by a new building, while the main villa left unaltered.
Up to Date
Today, the villa's gardens contain almost 16,000 tropical plants from all areas of the world, growing either outdoors or under cover. Large greenhouses, one of which measures 100m2, shelter precious orchid specimens, such as Araceaes and succulents. They're all meticulously maintained by 15 gardeners making this the largest botanical garden in the world. 
The Villa Radiana is maintained in perfect condition and has not lost anything of its original architecture.
Further Reading and in More Recent Times:
Please note that this is an article written solely for the history of Villa Les Cèdres and Villa Radiana Saint Jean Cap Ferrat. This is not a real estate listing.
Here is a selection of villas for rent in Saint Jean Cap Ferrat.