Historically, the Cote d'Azur has attracted millions of visitors and many famous people –  from fashion designers and Hollywood stars to artists and writers — who either rented or owned properties in the area. Of course, here we can only discuss properties that were previously owned by famous people, due to confidentiality. We don't want to upset anybody by intruding on their privacy. So here are just a few famous houses along the Cote d'Azur:
Roquebrune Cap Martin
La Pausa is large property located on the Cap Martin (Roquebrune), which is located in between Italy and Monaco, and is famously known as fashion designer Coco Chanel's Riviera residence from 1929 to 1953. Chanel's then lover, Hugh Richard Arthur Grosvenor, the Duke of Westminster,  bought the piece of land which was used by the Grimaldi family of Monaco as a hunting ground and gifted it to her. Chanel designed the villa with the help of a young Robert Streitz. The property was named "La Pausa" as it was reputedly a place where Mary Magdalene paused  on her flight back to Jerusalem after the crucifixion of Jesus. The property name was later also used as the name of one of Chanel's exclusive perfumes, 28 La Pausa. 
Chanel's guests at La Pausa included her creative friends, artists, musicians, and writers like Igor Stravinsky, Jean Cocteau, Pablo Picasso, Paul Iribe, Salvador Dalí and Luchino Visconti. Here are links to  several interesting articles from The New York Times about the lovely story of the history of La Pausa:
According to reports, La Pausa has now been acquired by the House of Chanel, and will be restoredto its deserved glory.
Monaco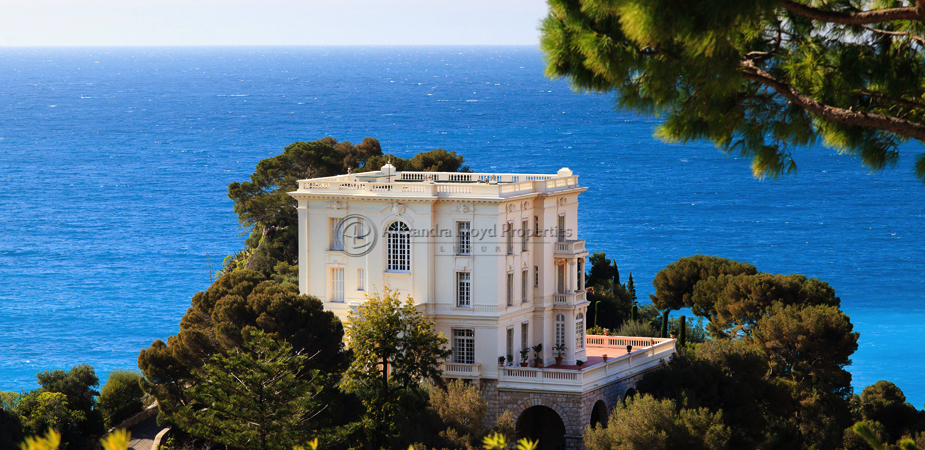 Villa La Vigie is actually located at the far East of the Principality and is an iconic property which is often referred to as the "Karl Lagerfeld Villa" as the designer lived in the property for approximately 10 years. It is truly spectacular and impressive to see, both from the outside and inside. Built in 1903, being one of the very few private residences in the area, long before the Principality skyline was constructed, it now is ideally located next to the Monte Carlo Country Club and the Monte Carlo Beach.
The current owners maintain the property to perfection, and proudly offer the villa for rent. For those lucky enough to reside in the Villa La Vigie, access to the swimming pool of the Monte Carlo Beach is one of the many benefits of renting the property.
Karl Continued…
Read Karl Lagerfeld's Monaco address book in Monte Carlo in the following link about where helikes to eat and spend his time in the Principality.
For Karl fans, see his stylish apartment in Paris and the swimming pool that he redesigned for the Hotel Metropole in Monaco.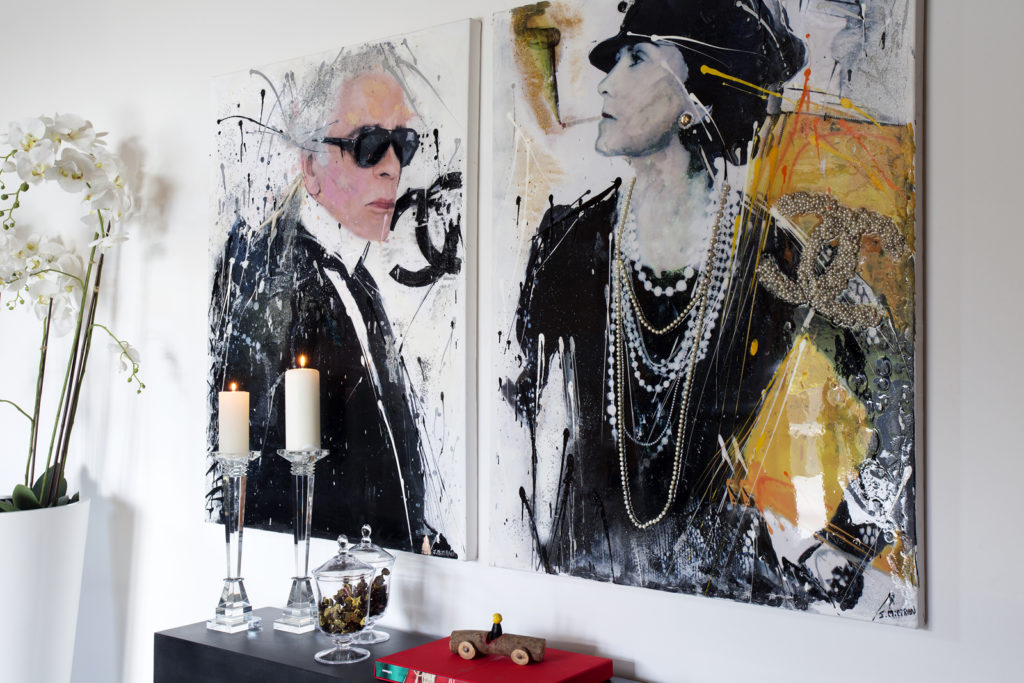 Karl and Coco in a fabulous chalet in Valberg
There have been several properties owned by heads of international fashion and beauty houses onthe Cote d'Azur – such as Coco Chanel and Dolce & Gabbana in Roquebrune Cap Martin, Givenchy in Saint Jean Cap Ferrat, Estée Lauder in Cap Ferrat and in Cannes.
Saint Jean Cap Ferrat
Villefranche sur Mer
Singer Tina Turner owned a sublime property in Villefranche sur Mer, named Anna Fleur, which  is featured in a 2000 edition of Architectural Digest.
Cap d'Antibes
One of the most famous properties on the Cap d'Antibes is a beautiful modernist villa on the water front, the Villa Aujourd'hui, previously owned by Hollywood moghul Jack Warner in the 1950s. See image at top of this article. One of the most famous houses along the Cote d'Azur.
Cannes
Villa Roche Cline in Cannes was formerly the holiday home of US cosmetics queen Estee Lauder and her husband Joseph.
Mougins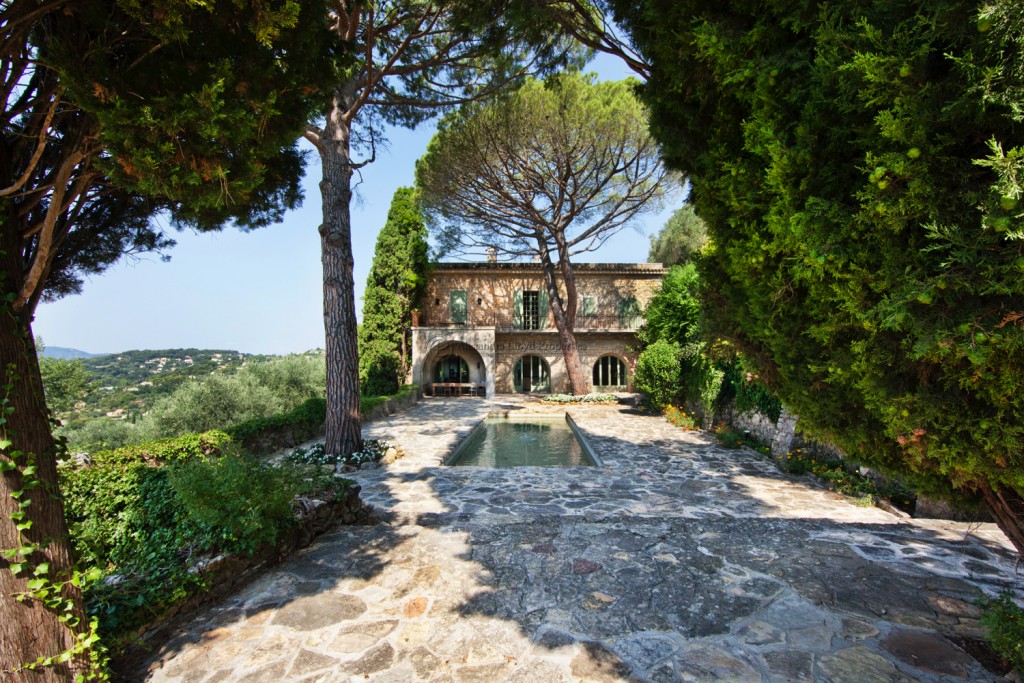 Pablo Picasso owned several houses in and around the Cannes area – one located in La Californie and another sublime old mas in Mougins. The Mougins property has been superbly renovated with the finest materials and care by the current owner, adding modern amenities with a strong intention to maintain as much history and memories of the late artist as possible.
Chateauneuf de Grasse
The living/dining area of La Pitchoune. Via The New York Times. American chef and author Julia Childs' house in Chateauneuf de Grasse, in the countryside north of Cannes, La Pitchoune, became her link to France, a place she returned to again and again in her mind and in her recipes. 
Julia's kitchen at La Peetch, as Julia called it, remains largely intact since the last meal she cooked there, a typically Provençale boeuf en daube, in 1992.
Saint Tropez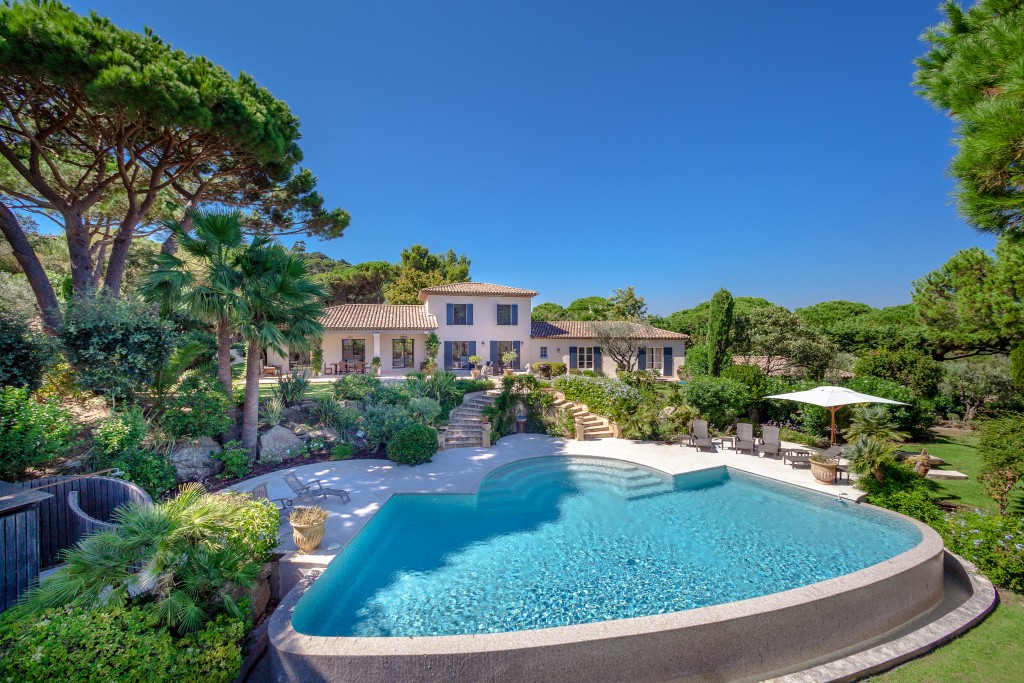 Pop star George Michael's former property is located in the Marres area of Ramatuelle, which reportedly was named "Chez Nobby". The property has since been fully renovated and renamed.
Further Reading on Famous Houses along the Cote d'Azur:
Read More Articles
Previous Post – Passable Beach – Saint Jean Cap Ferrat