Domaine Val des Costes – Eze
Domaine Val des Costes is located below the Moyenne Corniche, offering swift access into Monaco, Eze village and surrounding towns Beaulieu sur Mer, Saint Jean Cap Ferrat and Villefranche.
The estate offers 9 villas, all of almost identical construction, and with south facing sea views. 24 hour security includes a security guard at the entrance of the domain at all times, cameras throughout the domain, and one access gate via the security guard.
An average house in the domain measures approximately 220 m², with the possibility to extend by building underneath the property and making a small room (often used for a gym) on the top floor.
Due to the domain being quite small, there is usually a shortage of villas to rent or buy in Val des Costes. Below is a short collection of properties which are either on the rental or sales market.
Mountain Angel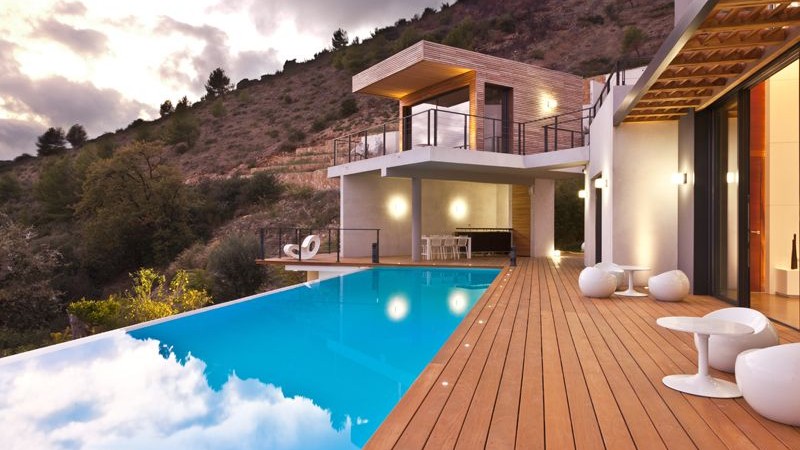 An ultra modern property located in the Domaine, one of the larger villas, offering six en-suite bedrooms and a lift for all floors. An ideal pied-a-terre for close access to Monaco.
Villa Cristina
Villa Cristina is one of the rare properties in the Domaine Val des Costes Eze that is available for rent. This villa benefits from arguably the best position in the domain, in terms of views and light, and finished to impeccable standard with luxury fittings and furniture.
Four en-suite bedrooms, the master bedroom standing alone with a private and spacious terrace.
New for rent in 2016 in Domaine Val des Costes Eze
A six bedroom villa available in the domain, with wonderful views, heated swimming pool, top of the range gym.
See alternative villas for rent surrounding villas in Villefranche, Eze, Monaco in the Alexandra Lloyd Properties portfolio.