Have you considered Corsica for your next summer getaway? There are many reasons why you should. From any one of many superb holiday villas for rent on this rugged French Mediterranean island it's easy to access gorgeous white sand beaches, scenic mountain drives and hikes, fascinating historic towns and villages with bustling cafes, restaurants and bars and wonderful food and wine experiences. In fact, Corsica has everything you need in an ideal holiday destination, including warm, sunny days to simply bask by the pool.
There are many wonderful places to stay on Corsica, but Calvi, located in the northwest corner of the island, is one of the most popular. Imagine the perfect Mediterranean city with a colourful array of buildings, cobbled streets winding upwards to a 13th century Genoese citadel, harbourside cafés, and a pine-fringed crescent of silver sand lapped by turquoise waters. You'll find all this and more in Calvi.
The Citadel
The Citadel itself forms a dramatic backdrop for the red-tiled town below, with its palm-fringed harbour and bustling restaurants lining the promenade. Quai Landry links the marina and the port, populated by more lively bars and cafés. This is one of the best places to get a feel for the town and watch the world pass by. Beyond the promenade, a pine forest – la Pinède – stretches along the six kilometres of gently shelving beach bordering Calvi bay and inland lie the mountains of la Balagne.
Things to do in Calvi
Within the walls you'll find narrow cobbled passage ways lined with tightly packed houses. At the highest point of the Citadel is the Cathédrale Saint Jean-Baptiste. Every week here there are concerts of "chants polyphoniques", Corsican polyphonic singing. The best way to explore the Citadel is to simply follow the ramparts, which offer stunning views across the bay to the mountains of la Balagne.
In recent years, Calvi has become known as Corsica's capital of culture. The town plays host to many music festivals during the summer including Calvi on the Rocks in July and Rencontres de Chants Polyphoniques in September. An impressive art exhibition also takes place inside the Citadel from June to September.
During the height of the summer season, Calvi has a lively atmosphere after dark, with a choice of quayside cafés, restaurants and several clubs. The well-known bar Chez Tao is not to be missed. Set high in the Citadel, it's often open until dawn, with music drifting out over the bay until sunrise.
Chez Tao
A Calvi institution, Chez Tao has been going strong for more than 80 years. In 1928, White Russian emigre Tao Kanbey de Kerekoff landed in Calvi along with Prince Felix Youssoupov, the man who murdered Rasputin. There, he fell in love with the city and it's citadel, but also with Jeanette Maestracci, who became his wife and the mother of his four children. In 1935, Tao Kerekoff opened Chez Tao, the first nightclub in Corsica, in the cellar of a XVIth century building. This place was formerly the house of Laurent Giubega, Napoléon Bonaparte's godfather, but also the summer residence of Sagone's bishops. Thanks to Tao, this club became a unique place where celebrities partied all night long. After Tao's death in 1973, his children, grandchildren and even great-grandchildren continue running this magic place keeping to Tao's motto : "Be happy today, because tomorrow will be too late."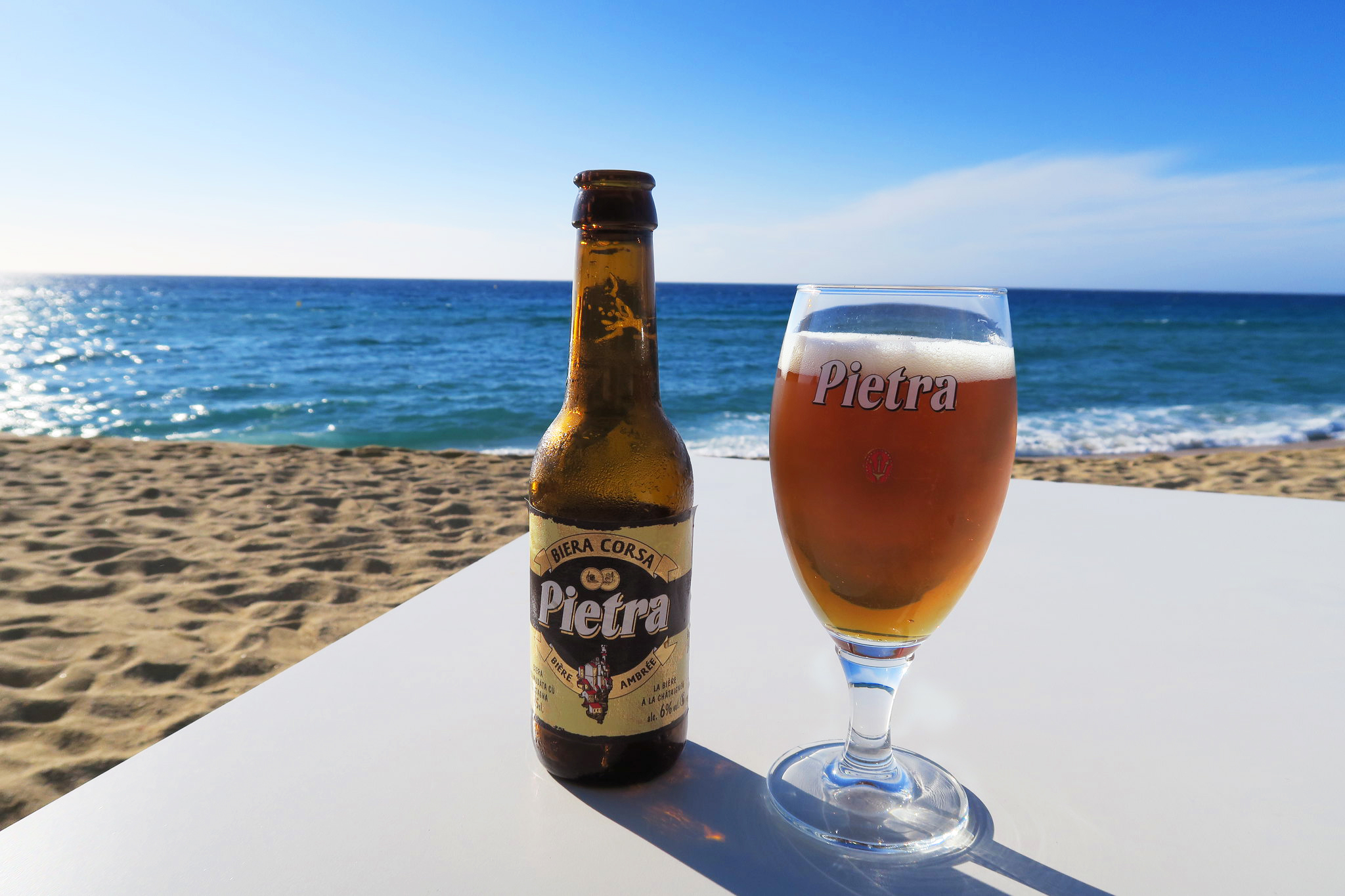 Dining out in Calvi. Via Corsicatours.
When dining out in Calvi, be sure to try Corsican specialities such as wild boar stew and hazelnut-rich desserts, accompanied by excellent local wines, which are rarely available outside the island, or a chilled local beer.
Beaches

A Beach in Calvi
Calvi's beach is a huge sweeping crescent of white sand fringed by pine woods and has something for everyone: it's patrolled by lifeguards in the summer and has a gently shelving gradient perfect for all ages, including small children. There's also a fine array of restaurants and cafés by the beach – some of which serve directly onto the beach while you lie back on your sun-lounger; not to mention a diverse range of water sports activities for the more active.
Popular water sports include sailing, jet skiing, waterskiing, wake boarding, kayaking, parascending, diving and snorkelling. Another option is an exhilarating horse ride through the surf.
Plage du Roncu
On the west side of Calvi, Plage du Roncu is a small beach with coarse sand and rocks, making it perfect for snorkelling or a quick dip to cool off in the sea.
Pointe de la Revellata
A two-hour return walk along a coastal track takes you to the lighthouse at the end of the Revellata peninsular (west of Calvi) with wild, dramatic landscapes, spectacular views across Calvi and beautiful little coves to discover along the way.
Around Calvi
Explore inland for spectacular mountain scenery and crystal clear rivers. Via Pixabay.
By Train to L'Ile Rousse
Take a fun bumpy train journey along the beautiful coastline from Calvi to L'Ile Rousse. There are beautiful beaches en route, some of which are only accessible on foot. Enjoy the views from the train then explore the charming seaside village of L'Ile Rousse and lunch in the central plaza under the shade of plane trees.
Take a Boat Trip
Take a boat or catamaran sailing from Calvi harbour to nearby creeks and scenic secluded bays. There are also trips available from the Quai Landry to the Scandola Nature Reserve, a UNESCO World Heritage site, where red granite cliffs plunge into the clear waters of the sea.
Discover the French Foreign Legion
Just outside Calvi, close to the airport, is Camp Raffali, the base for the famous French Foreign Legion. Since it was founded in 1831, soldiers who join the Legion have been entitled to anonymity and French citizenship, attracting tales of mysterious characters with murky pasts. The Legion is shrouded in secrecy but the base opens its doors to visitors twice annually in April and September. At any time of year you are likely to come across Foreign Legionnaires as you wander the streets of the Citadel.
Balagne Villages
Perched high above the sea, the fortress villages of the Haute-Balagne offer dramatic mountainous landscapes and spectacular views over the coastline. Stop en route to sample delicious local produce or visit one of the many workshops along the craft trail Strada di l'Artigiani.
Galéria and the Fango Valley
Take a trip to Galéria, the next village down the coast from Calvi in the direction of Porto. Here you will discover a small fishing village with a large pebble beach, beautiful scenery and turquiose sea. Just behind the village is the Fango River valley, which offers the perfect spot for a picnic and a cooling dip in the rock pools.
Luxury Villa Rentals in Calvi
We offer a fine, hand picked selection of luxury homes for rent in Corsica.
A Four Bedroom Villa with Exceptional Views, Overlooking Calvi
Waterfront, Six Bedrooms, Very Close to the Centre of Calvi
An elegant contemporary villa in Calvi, with six bedrooms, available for rent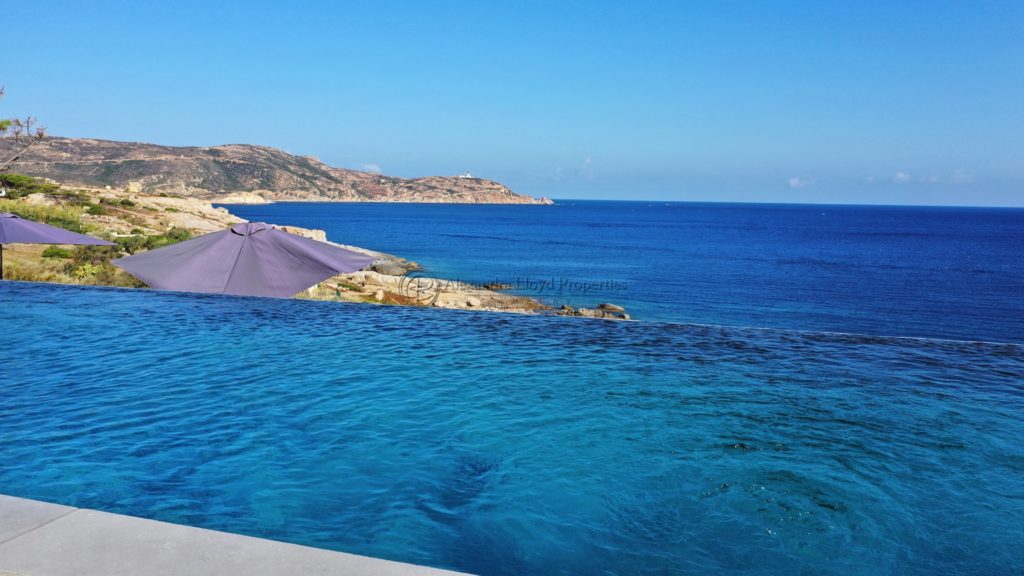 La Maison France 5
In French, La Maison France 5 features Calvi, a local guide discussing the history of the town, the citadel, and the architect Philippe Charbonneau with one of his recent creations