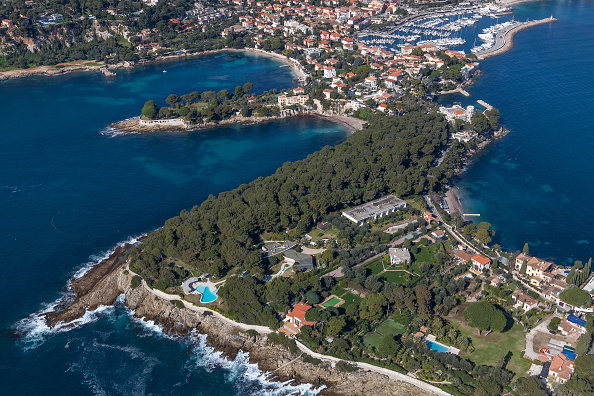 Saint Hospice is located on the extreme tip of the Saint Jean Cap Ferrat peninsula, considered as one of the most exclusive parts of the world.
Real Estate in Saint Hospice Saint Jean Cap Ferrat
Villas are few and far between and do not come cheap! Most are waters front estates with an Eastern exposure towards Monaco and Italy.
Amongst the most important properties on Saint Hospice are the Villa Fiorentina, la Cucci Noya, la Fadarello, Villa Brasilia, la Petite Fiorentina which was previously owned by the Givenchy family.
This specific part of the Riviera offers exceptionally large pieces of land with exquisite houses. Satellite images show several properties on this point having two swimming pools, tennis courts and pool houses. The point begins at the Chateau Saint Jean, includes Paloma Beach and finishes at the end of the Point des Fossettes.
La Fiorentina
The most recognisable property on the Saint Hospice tip is the Villa Fiorentina.  Its beautiful terracotta red facade and dominant position certainly makes the villa noticeable. The property is reported to be one of the most expensive houses in the world. According to Forbes magazine, the estate is for sale with a price tag of $525 million.….
In this 2011 Australian newspaper report, Cap Ferrat claims to be in the top ten most expensive places in the world.
Interesting Fact
The Saint Hospice homes a chapel and a statue of the Virgin Mary. It was built in the XIth century, on the ruins of a sanctuary. Named after Saint Hospitius, the chapel was entirely restored by the Duke of Savoie in the XVIIth century.
The bronze Virgin Mary statue stands 11m40 in height, constructed by the Italian sculptor Galbusieri in 1904.
Just below the chapel lies a cemetery where victims of the First World War from the Villa Les Cedres are buried.