Already the owner of a big property in Villefranche since 1895, Léopold II became interested in Saint Jean Cap Ferrat in 1899. He initially buys close to the Passable area, a small villa (which today is called Ibéria) with its private port which allowed him to moor his yacht Clementine during his trips to the Cote d'Azur.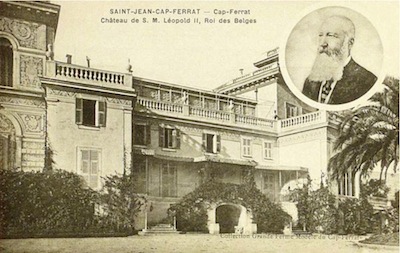 From this time, his purchases became gigantic. He paid people to investigate the area and to find pieces of land for sale and the king used an intermediary to obtain the lowest price. it should be made clear that all of these purchases were not done in his name, but under companies. After a few years, the king of Belgium found himself the owner of the whole of the West side of the Cap Ferrat, representing more than 50 hectares. It was in 1904 that the King realized the the most interesting purchase would be of the Villa Pollonnais which dates back from the middle of the XIXth century. This property, which was owned by Désiré Pollonnais, the old Mayor of Villefranche from 1874 until 1900, was redesigned in the 1883 by the Nicois architect Sébastien-Marcel Biasini. To carry out the works, Léopold II had used, for discretion, his friends and doctors name Jules Thiriar, as locals were becoming worried about the amount of land that was being bought by the king, especially as he tended to close up the properties by barbed wire, preventing people freely entering the grounds.
After buying the Villa Pollonnais and its 15 hectors of land, the king turned to his favorite architect, Aaron Messiah, to enlarge the demure. This included adding to original west wing of the villa, a whole new building of three floors and finished with a large peristyle with pillars and a semi circular terrace, along with great volumes. With the main works finished, the property was repainted and renamed "Les Cèdres". At the same time, there were also important changes to the inside of the property, but the main changes were made to the gardens. Under the orders of Harold Peto and Jules Vacherot (who was responsible for the arrangement of the gardens of the Eiffel Tower and the Champs Elysées in Paris) a strip of 2 kms was made for the king to ride with no onlookers. Alongside this, a pool of 50 meters in length was also dug into the rocks.
Please note that this article was composed uniquely for interest purposes and that [highlight]the property is not a rental or sale[/highlight] listing. Here is a full list of properties for rent in Saint Jean Cap Ferrat.