Arguably known as the biggest and most prestigious private domains of St Tropez, « Les Parcs » is a recently built estate with approximately one hundred villas of a luxurious quality. Les Parcs de St Tropez is certainly an area that is extremely sought after by foreign clients, who are looking at spending their summers in St Tropez as it offers many advantages to the tenant: 24 hours security, guardians at the entrance and night men paroling the domain with guard dogs, immaculate grounds maintained on a daily basis, access to a private beach that is exclusive for the clients of Les Parcs de St Tropez.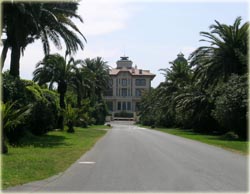 Alexandra Lloyd Properties offers a wide selection of villas both for sale and for rent in Les Parcs de St Tropez, all of exceptional quality and prestige.
We have taken some time to selection a few of the most stunning properties (in our opinion) and describe in more detail about what makes them so special.
This amazing luxurious villa in the heart of Les Parcs de St Tropez is one of the most breathtaking properties in the area (certainly according to Alexandra), with its fantastic colonial design and perfectly maintained grounds of 7500m².
Arriving to the villa is a treat and driving down the long drive facing the property is a great pleasure due to its sheer beauty. The villa itself has been renovated to an excellent standard in 2003 by its current owners and offers high quality materials and furniture. Offering a large open living space which overlooks the gardens and sea, spacious fully equipped kitchen, office, 5 bedrooms and 5 bathrooms, stunning swimming pool and pool house and many terraces, the property is exceptional.
Just down the road, as all villas are in Les Parcs, you will come across another one of our fabulous properties, a Neo-Provencal beautifully restored villa which offers a spectacular grandeur and interior decoration. Quality and detail is obviously something that the owners take very seriously and this can be clearly seen in the presentation of this villa. The large iron gates securing the property open up to a long drive that takes you down to the property. The main entrance leads into a hall way where the living room is to the left and the kitchen to the right. The property offers large living space, 480m² spilt up into 8/9 bedrooms. This villa has been planned and laid out in a very convenient way for people to have guests. Five independent bedrooms and located just by the pool and garden side and all have independent accesses. Large plasma screens in the living room, a centralised music system, sophisticated alarm system wired up to each bedroom, personal office, this property really is la crème de la crème!
Looking for a villa pieds dans l'eau/ waters edge in Les Parcs de St Tropez? We have quite a selection, depending on what you are looking for. If you are looking for a more modernised villa, maybe reference CLH will take your fancy, or a more Provencal style we may suggest to you AFT.

Le Chateau de Borelli is situated in Les Parcs de St Tropez and overlooks the Baie de Canoubiers. The Château is recognised by its large tower which can be seen from many areas in and around Saint Tropez. Situated in the heart of the private estate, this oriental chateau was built between 1895 and 1900 by Philippe Octave Borelli and offers one of the most beautiful views over the Baie de Canoubiers and has several direct accesses to the water.
The designer had spent a long period in Egypt and built this property in memory of his time there. The palace located in the heart of a certain number of hectors, with palm treed lined ways to the sea and its gardens are made up of rare essences offers a wonderful life for its visitors. The Borelli family until lived there until 1928. The chateau was taken by the Germans in 1944 and suffered from bombings which damaged the roof and the library. The luxurious grounds and the rest of the property were abandoned and in 1960 the domain was spilt up and became the Parcs de St Tropez.
It was only in 1988, after 40 years of abandonment, that the chateau was restored to its identical nature and was divided up into apartments. A luxurious residence retaining its original prestige, swimming pools made out of marble, frescos with retain the superb image of Les Parcs de St Tropez.
See full list of villas in Les Parcs de St Tropez:

CLH - ALB - ALG - ALH - AFT - AAU

Related articles on St Tropez: