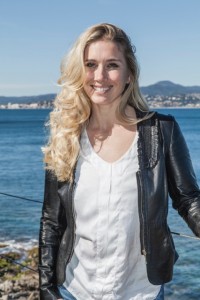 Since graduating from Nottingham Business School with a BA (Hons) in International Business with French, German and Spanish, founder Alexandra Connolly has used her passion for real estate, extensive experience and a solid knowledge of French property legislation to create Alexandra Lloyd Properties.
Alexandra does not believe that she is inventing anything new - and regularly states 'its not rocket science' but she knows that her drive comes from loving real estate. She considers herself extremely fortunate to have fallen into the business at a young age (23 years old) and has never looked back.
A simple rule applies when renting houses - "If I won't sleep there, then I won't rent it", which seems obvious but not everybody works this way and more importantly, Alexandra is very picky! Fortunately, the French Riviera is full of majestical homes, which are perfect for holidays so not too many get rejected!
Discretion is fundamental when dealing with high quality real estate, she is a private person dealing with often very private people.
We consider that we have a firm knowledge of the local market, working with reliable and the most competitively priced companies which provide all the services that you require. Car hire, villa or close protection security, helicopter transfers, masseuses, beauty treatments (appointments in salons or at home), boat hire, local destination propositions (such as wine tours), children activities, chef and waiting staff hire, shopping deliveries, and  more.
The French Riviera (also known as the Cote d'Azur) has attracted the rich and famous since the Belle Époque – when royalty and members of the aristocracy would frequent the world-renowned hotels and fabulous villas. Many writers and artists have either relocated to the region for its delightful climate or spent time here producing famous paintings and other works of art and literature. Many buildings bear remembrance plaques for glitterati such as Renoir, Monet, Somerset Maugham and countless others. More recent times have witnessed the inclusion of Hollywood celebrities such as Greta Garbot, Charlie Chaplin and, of course, Grace Kelly (or Princess Grace of Monaco as she was destined to become). Today, the Riviera is still one of the centres attracting the world's most famous names.
ALP LUXURY VILLAS & CHALETS
"Le Majestic" - 4, Boulevard de Cimiez - 06000 NICE
Tel: +33 613 933 798 - Email : info@alpvc.com
Siren 808 698 906 - R.C.S. NICE
Gérante : Mademoiselle Alexandra CONNOLLY - Titulaire de la carte professionnelle numéro 12541 pour les transactions sur immeubles et fonds de commerce et la gestion immobilière, délivrée par la Préfecture des Alpes-Maritimes.
Garantie financière SNPI numéro 19808 - QBE pour les transactions sur immeubles et fonds de commerce pour un montant de 110 000 € et pour la gestion immobilière 110 000 €