Description
Totally unique, a stunning Belle Epoque villa located in Monaco, offering amazing views overlooking the Principality and the bay of Roquebrune-Cap-Martin. Being the former residence of Karl Lagerfeld for ten years, and listed as one of the most famous houses on the Côte d'Azur.
Built in the early 1900's, being one of the first properties in the Principality of Monaco, offering approximately 600 m² of living space, over three levels. In addition, there are surrounding terraces of 237m², suitable for al fresco dining or receptions.
The villa is maintained with great pride. All the wonderful original features have been retained and immaculately restored - the facade, the ceiling mouldings, the wooden floors, the fireplaces...
Entrance level:
Double living room
Dining room
Equipped kitchen
Pool room
Library
On the First Floor:
Two spacious double bedrooms with sea views. One smaller bedroom with a shower room, office and dressing room
On the Second Floor:
One spacious double bedroom with an en-suite bathroom. Two slightly smaller double bedrooms with en-suite bathrooms, office and a dressing room
Included in the rental
Daily housekeeping
Continental breakfast - prepared and served in the villa
Full time guardien / caretaker
High quality video materials
Telephone in each bedroom
Air conditioning
Utilities
Wireless internet
Covered car parking area
Bed linens and towels - changed daily
A private tent at the Monte Carlo Beach Club, for up to ten people, depending on the rental period
An electric car for journeys from the Beach Club to the villa
Additional Services
Nice Airport transfers
Villa Staff - Chef/ Butler
Car rental with chauffeur
Reception preparation
Dry cleaning
Massages and beauty treatments
A luxury villa for rent in Monaco...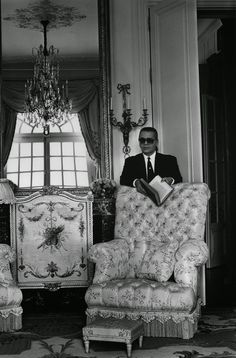 Karl Lagerfeld in Villa La Vigie